I'm in desperate need of a space to sew, craft, paint and draw that's NOT my dining room table. I'd also like a space that's away from Arthur just in case I drop tiny bits of thing-a-ma-jigs or sewing needles.
But it becomes a little tricky with the amount of space I have. I love living in Toronto but it's very expensive, so it's condo life for me. I love my condo, the security guards and residents are all sweethearts to Arthur, the walls are made of concrete so I barely hear my neighbours and it's right next to a tiny protected public park (no other buildings will be erected to block my view of the CN Tower). The downside is that I really could do with more space and about half of the condo "walls" are made of floor to ceiling windows making it hard to insert selves. I really need to figure out how to utilize the vertical space we do have.
I've been looking up tiny craft areas on the internet in hopes of creating my own work environment. I've started formulating a plan and I really hope it works out.
Here are a few of my favourite tiny crafting spaces.
Okay, I absolutely adore IHeart Organzing's closet craft room. It's adorable and an efficient use of space. Absolutely everything you need is available and well organized.
Check out another closet crafting room -- this one belongs to Laurana. Hello kitty x2!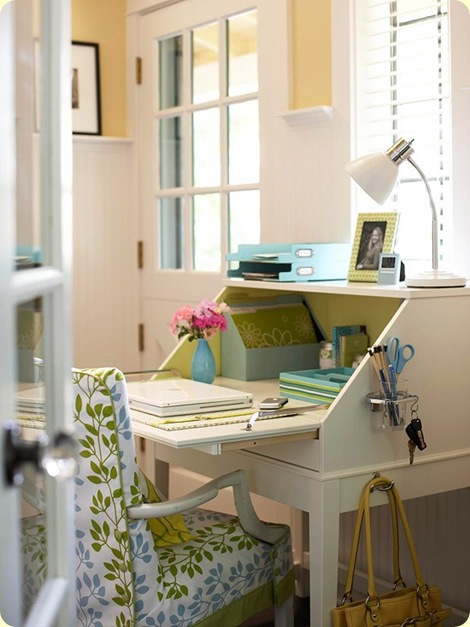 As mentioned, I have vertical space and the wall storage featured on Apartment Therapy would perfectly fit in the area I'm planning on using as my craft nook.
I'm actually quite excited to start designing my craft space AND to have a home for all my supplies. Currently my button maker is shoved under one of the side tables in my living room and every time I need to make buttons, it's either on my coffee table or dining room table and both surfaces are made of glass -- yikes!
Do you have a lovely craft room to call your very own? Any tips I can use when I start organizing my space?